Current Location: Home - Products Products


Cholecalciferol (Vitamin D3)
Detailed Description
1. Product name:Vitamin D3
Active ingredient: Cholecalciferol
Chemical name: (3β, 5Z, 7E)-9, 10-Secocholesta-5, 7, 10(19)-trien-3-ol
2. Molecular formula: C27H44O Molecular weight: 384.6
3. Molecular structure: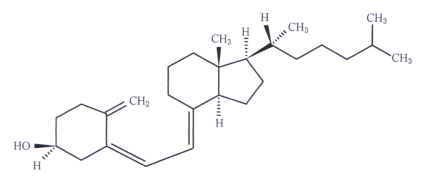 4. General property:
White or almost white crystals
5. Application: Food additive
6. Reference: BP, EP, USP etc.
7. Package: 100g per package or 1kg per package. Under nitrogen, in an airtight container, protected from light, at a temperature of 2oC to 8oC.