Current Location: Home - Products Products


Vitamin D3 500
Detailed Description
1. Product name: Vitamin D3 500 Feed Grade
Active ingredient chemical name: (3β,5Z,7E)-9,10-Secocholesta-5,7,10(19)-trien-3-ol
2. Active ingredient molecular formula: C27H44O
Molecular weight: 384.64
Structural formula: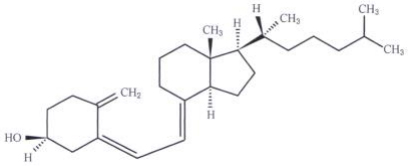 3. Physicochemical properties:
The product is a beige to yellow-brown powder form, with fluidity. It is easy to decompose when it meets heat, light or moisture absorption, so that the assay declines.
4. Applicable scope: Feed additive.
5. Pharmacopeia for reference: GB9840
6. Package: 25 kg/carton or fiber drum. Preserve in a well ventilated dry place, protected from light and hazardous materials.